Alas poor Desiree, I knew her well.
Last night was a highly disappointing episode of
The Amazing Race
for a few reasons.
First and foremost was that major confusion on the
Autobahn
doomed my favorite team to eliminiation. Poor Wanda and Desiree! I shall miss them and their spunkiness. They clearly were victims of killer fatigue, as even the stronger of the two (Desiree) could barely keep up her energy in the Roadblock. Miraculously, they did manage to catch up to the team in front of them at the end, but were just not able to squeeze it out in front of the Double D's. So I guess now all my power will go into rooting for the self-proclaimed nerds, Dave & Lori. Go geeks!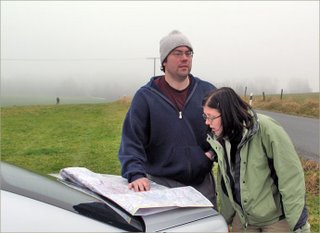 A second major disappointment was the lame-ass product placement Roadblock. OK, we get it - Travelocity is a sponsor (and no, I won't link to their site). But having people search a field for a gnome is dumb, and having them carry it around for the rest of the leg is dumber. I can handle small amounts of product placement if it's at least relevant and fits into the show well (think the
Banana Republic challenge
on
Project Runway
). But this just sucked.
And finally we are subjected to the testosterone nimrods (Eric & Jeremy) landing in first place yet again, mostly spurred on by scoring the earliest flight out of Moscow. I really hate them more than I can possibly say - all they talk about on camera is sex and women. Clearly this is massive over-compensation, and they probably are horrible in bed. Henceforth I shall call them the Minutemen.
So this was all a big letdown - I'm hoping the show takes some great resurgence next week. The season began very promising.
Tonight we have the first new episode of
Lost
in awhile, and I know I'll love it because it focuses on my favorite character, Sun. I expect it will be more of the heartwarming variety, and there are whispers of pregnancy...
remember when
Claire yelled at her about, "Have you ever had a child of your own?" How much you want to bet that plays out now?
And over on
Top Model
, the girls will be modeling with cockroaches. No, I don't mean Eric & Jeremy, I mean real insects. This sounds more bizarre than the
tarantula shoot
in cycle 3.
Also I'll be watching
Top Chef
, which I thought I might avoid, but is now sucking me in, no thanks to
Brunette
. Curse you and your addictions!